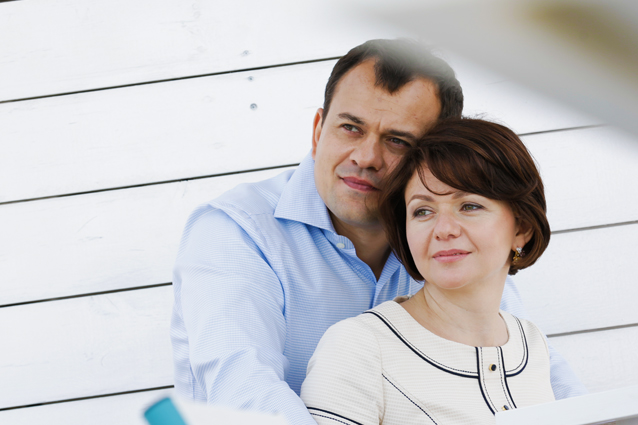 People come into charity, usually, in different ways. Moscow financiers Anna and Sergey Stopnevich had a personal motive to create private charitable fund Together Forever in Cyprus. Its aim is to help children, whose diseases require immediate neurosurgical intervention, which for some reason proved impossible in Russia.
They were not going to linger here for a long time. Cypriotic winter is cold, despite its +17, stiffened on a thermometer. You start to feel it when you are at home. For all the money, this marble cannot be warmed. And if it were not for their circumstances, would they sit here to admire the palms bending under the gusts of the wind, or on the sea, which is slowly but surely filled with ice lead, changing the familiar blue Mediterranean palette to the northern tin ebb? Cyprus in winter is another country. And life for them here, too, has become different. "You just have to be patient and wait for the results",- as Professor Wagner advised them in Mainz.
1
Russians have chosen Cyprus since the early 1990s. "The island of exiled wives," as it is called among the people, has become for many a kind of the second village, which is sometimes easier to reach than to the Moscow region. In addition, tax incentives make Cyprus still attractive to domestic businesses. All large Russian companies have a permanent port of registry here.
For many of them, registration in Cyprus is a guarantee of their own legitimacy. If there are troubles in the homeland, there is a chance to appeal to European laws and courts. After all, Cyprus is the territory of the EU. Hence the current boom in Cyprus real estate, which recently received a new confirmation in the form of a million investment of the first couple of Russian show business - Alla Pugacheva and Maxim Galkin.
Everywhere the rapid construction: everywhere you look, there are solid construction cranes. And the Moscow-Larnaca flights hammered to the outset, where a large percentage of passengers in the business class lounge are middle-aged men who don't look like resort people. The next three and a half hours they will spend, not looking up from the screens of their laptops. More recently, the permanent passenger on these flights was the director of "Rusal" treasury Sergey Stopnevich. Since he left the post last December, he began to fly less often. However, there are other reasons. In the last year, Sergey Stopnevich together with his wife created a private charitable fund Together Forever. Its aim- to help Russian children, that cannot be helped by native medicine. In today's political situation such initiative hardly can arouse great enthusiasm from official structures. But there is no policy in what Stopnevichs are doing, and there is only a sincere desire to support and help those who need this most.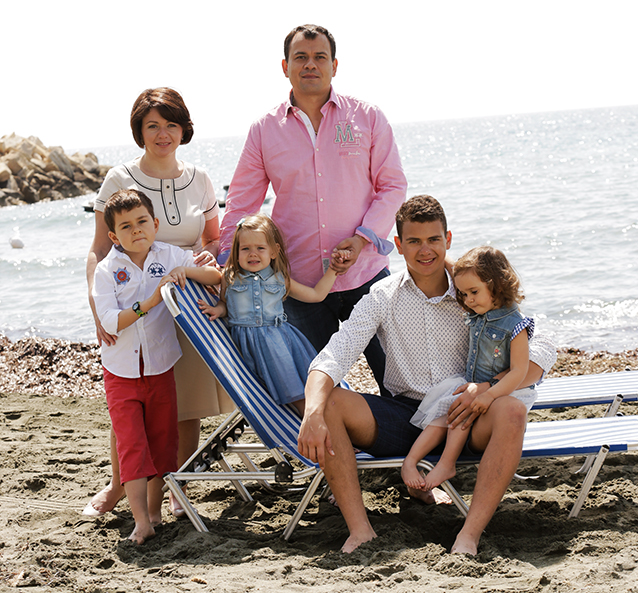 We are sitting in Sergey's cabinet in his office. Anya is going to come soon, and I am looking at the interior: leather, redwood, bronze- everything is very solid, serious, thoroughly. It is clear that the owner is going to settle here for a long time. Now Sergey is in the process of launching juridically-service firm, that can establish every company of each jurisdiction in Cyprus. It includes the creation of trusts, the opening of bank accounts, and special financial consulting, brokerage services. For clarity, Sergey sketches on a sheet a chart of possible directions for the development of his business: a completely inspirational picture is obtained. But, of course, I was not interested in financial details. I am interested in the charity fund Together Forever. What place should it take in this scheme?
— The first thing, - says Sergey, vigorously drawing a circle over the intricate design. - If there were no foundation, there would be nothing: neither this business nor the office. The Fund is now the most important for us with Anya.
— Do you play chess?
— No
— And I love them very much. I can always calculate my game for several moves forward. And when I left "Rusal", where I had been working for almost seventeen years, I already knew what I would do next: it's charity. Actually, I just was waiting for the moment, that everything would turn out when you could say to yourself: "Act, now your move."
2
The story of Sergey and Anna Stopnevich is primarily a love story. And then everything else: children, business, successes, victories, sorrows, and joys. There are couples who are lucky from the very beginning. They are a small amount of them, but they are, and with a certain observability it is easy to find them. By the views that they throw at each other, for some separate, insignificant replicas that are exchanged.
— I have a disgusting handwriting, - says Sergey, explaining why his exam marks were lowered when entering a banking school.
— No, you do not have disgusting handwriting, you have it just sweeping, - corrects him, Anya, making it clear that a beloved man cannot have anything disgusting.
Anya is an embodiment of impeccable accuracy. She is a financier too, high achiever of the banking business, owner of red diploma and of different certificates of a highly qualified specialist. Anna and Sergey were studying in the same banking school, however in different groups. Bur the fate united them together on some party at 16 years old, half a year after they got married. Parents even had to write a petition for permission to the municipal district, since the bride and groom were minors.
— They have very strict rules and decidedly refused to understand what it means to live together, - Anya remembers. "When we applied, Serezha was sixteen years old and eleven months old, I'm sixteen and ten. I think if we were allowed to live without any stamps in the passport, we might have tried and fled, but now we are together for twenty-one years already.
Their youth fell on the finals of the nineties, and the beginning of adult life coincided with the 2000s, which are not considered to be good ones, except that these times were "fat" years of illusory well-being, which turned into a protracted crisis. But according to the fact that Anya and Sergey tell about themselves, there is a completely different picture, incomparably more joyful, optimistic, filled with the desire to take place, to achieve. They are not oligarchs' children, but also not a provincials to conquer the capital. They are usual Moscow guys with loving parents, with their own friends, career difficulties and life problems, that were enough, but which were not perceived as the end of the world. They had clear and simple dreams: to have a good flat in 30, to build a country house in 35. But not somewhere there, on the sky-high golden miles, but in quite democratic region, in the direction of Yaroslavskoe highway. They had modest single room flat, where there was nothing except TV and old school table that was served to be dinner and writing table at the same time.
— We both were very lucky, we didn't have idols,- Anya says. – We did not want to imitate anyone. I never moaned to buy me something. The whole of Moscow's nightlife also flew past us. When we had extra money, we preferred to go on a trip. We bought the cheapest tickets and flew for the weekend to Geneva or Paris, just to take a walk around the city. We constantly opened new countries, new cities. And this was the most delightful of all possible experiments.
Moreover, they had Birthdays, that they were celebrating, every time they created a new scenario and inviting 30 people together. Their house has always been open, joyful and hospitable. Even the eldest son Artem's birth did not change anything completely. Both worked on equal terms, tried, sought, passed the MBA exams, became chiefs, each with its own area of responsibility. No division of duties like "I earn money, but you sit at home with a child." We both earned money, and if it was needed, in the rotation we were sitting with a child. What is more, Sergey admitted that he could be for the dad, and for the mom. He does not see any feet in this, on the contrary, readiness to take not itself a part of house cares - a true pledge of happy family life.
— We were going in parallel, we always had common interests, - Anya says.- We build our career together and we worked together on children. And since the financial sphere was the same, Sergey's name and his reputation worked very often. Sometimes it happened that I was calling to some company, named myself and I got everything with incredible speed. In fact, sometimes I even could not understand what merit I got it. People reacted on my husband's name. I remember when one client manager asked me to say "hello" to Sergey, and I was surprised (" Which Sergey?"), he added mockingly: "Just do not say that you are a namesake."
By a happy coincidence, the appearance of each child in their family was marked by a new stage in Sergey's career. "Russian Aluminum" arose in his life when Anya was waiting for Artem. Then there was still no mighty "Rusal", but there was a shabby building on Studencheskaya Street, where he was invited to an interview, promising the position of a financial manager. In the last moment, it revealed that another person was taken at this place. It took him a while to work just as an assistant trader for metal. But this experience will be beneficial when he heads the entire financial department of the company.
— Rusal was born at the beginning of April 2000 together with Artem, with the difference in several days, - Sergey will say proudly
— So, Aries, - I quote from the memory of the maxim of the horoscope - a fiery sign of bright, talented and straightforward natures.
Now Sergey talks about his life in "Rusal" with the intonations of the hero from Dreiser's trilogy. 2000s years is the time of the Russian dream. That's how she looked: with three mobile phones, that are put in each pocket, with endless travels, with gigantic financial turnover and billions of deals. On Monday departure, on Friday - evening arrival. You just have time to fix: today is Bratsk, tomorrow will be Novokuznetsk, then- Krasnoyarsk ... Life in the road, in an uninterrupted night flight. Night, morning, day, smoking pipes, the snowy landscape outside the window, which is no different from the one that was three days ago in another city. And suddenly, in the midst of the endless deeds, there is the voice of a five-year-old son in a telephone: "Dad, when will you come to visit us? We miss you. "
Dad is a guest, who doesn't live, but just sleeps before the next flight,- this role was not for Sergey. In one moment he assembled his team and solemnly announced that he was tied up with business trips. The financial system of "Rusal" is built, debugged, centralized, and now he will manage it from his office. The chief 's decision was met with understanding.
While Sergey was flying, Anya was studying hard. Her last diploma she protected when she was 30 years old, being deeply pregnant. She even was afraid to take her diploma and sent Artem to take it. The birth of Sasha slowed down the vital rhythm of the Stopneviches. They were already grown-ups, held people who achieved a lot . In addition, after Anya's childbirth, the chronic problem with the knee became acute. Trauma that was received in childhood, had returned with a new pain. Such that she could not walk at all. The operation, done by our doctors, did not bring the desired result. The pain remained.
— You need a knee reconstruction, - she heard the verdict of the surgeon.
— So why you still have not done it? - always restrained Anya was indignant.
— They did what they could, – she got the answer.
The search for other doctors led her to the European Medical Center, where she heard the same diagnosis. But then she decided not to put more experiments on herself and, finding out where in the West such operations are being done, she rushed to Switzerland to the clinic to one of the best orthopedists in Europe. There, after the operation, she was put on her feet for three weeks. But the rehabilitation course, which was later prescribed at home, again hardly augmented her.
— I do not want to say anything bad about Russian health care,- Anya sighs. - I know that there are wonderful doctors, excellent specialists. But all my experience was terrible. And there's nothing I can do about it.
Either this is a coincidence of some unfortunate circumstances, or simply not destiny, but the local medicine was not successful for Stopneviches. The story will repeat with Anya's stepfather, who faced a dangerous operation on the open heart. And after all the troubles, fears and doubts, the choice was made in favor of the clinic in Mainz in Germany.
— Could you imagine, on the second day he was allowed to drink coffee and the glass of red wine,- Sergey remembers.- Only smoking was prohibited. No more cigarettes in his life.
Of course, it cost a lot. And if not the active Sergey's work, there would be neither Mainz hospital nor Germany. How many of our compatriots came there with similar diagnoses, but when they heard the final number, which would cost the treatment, they turned around and went home. Fortunately, Stopneviches had money. And very soon they will need them again.
3
In 2014, Anya gave birth to twins. All these years they passionately dreamed about the girl, and here at once two beauties - twins Masha and Tanya. Of course, the worries increased. They suddenly became parents with many children. Now we traveled not with one suitcase, but with a large family. If it was possible, several adjacent rooms were shot in one hotel, but more often it was entirely a large villa. And everything was fine until Sergey was the first to notice that Masha was moving in a wrong way. She seems to be afraid of stepping on the sand, strangely pressing her toes. And she always needs support - in the form of a stroller, then someone's hands. Although before that she ran pretty fast, and in general the growth was all right. However, she was sick very often. "But all the children become sick", parents have consoled themselves. In one of the clinics they were told that it's okay, it's the spine. The girl is growing too fast. They had been registered a massage and, actually... that's all. But Masha became only worse. She was enough patient child, but she screamed so terribly and sorrowfully that an experienced masseuse asked the first: "Does Masha need this massage?"
And again the hospital, this time the department of some exclusive diseases. No one understands anything, only hands are bred. Meanwhile, Masha almost cannot walk anymore. For some reason, she always pulls herself on her head. She again cannot be without a nipple, as when she was a baby. And the look is muddy-muddy ... We need to do an MRI to understand if the brain disease is the cause. The peculiarity of the Russian MRI analysis is that it is not readable in European clinics. Why does a child have to suffer twice with anesthesia? We decided that we should go to Mainz, there is a children's department.
— No, we didn't have a panic, - Anya says. – Everything has its own logic. The main thing is to understand this logic to act in a right way. Serezha could not fly with us that day, he had an important deeds. I flew alone. In the hospital me and Masha were put in the department of children oncology. Near us, there was a сrib with a boy with some rare leukemia. He was all in catheters and tubes. I looked at him at night and was thinking with shudder about what is waiting for us here. MRI and all the necessary tests were done quickly. While I was walking with Masha in my arms on the inner courtyard, Professor Wagner came up. "Maria?" He said inquiringly. "Maria," I confirmed. "You have a big problem, but I can help you, follow me." I went.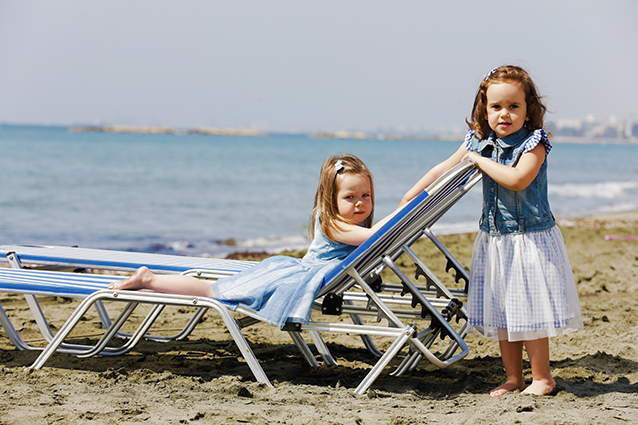 In the doctor's office, Anya sat in front of the monitor screen, on which were exposed two halves of the brain of her daughter.
— You see, - said Professor Wagner, -between the two hemispheres there is two large pelves, and there must be two thin streamlets. Your daughter has excess water and very high intracranial pressure. Therefore, she always wants to stand on her head to relieve tension. Did not you notice how big her head is? In addition, we found two more cysts, one of which presses on the cerebellum, blocking her left leg. She almost does not feel it. The girl must be urgently operated.
— I must consult my husband, said Anya firmly, without taking her eyes off the screen.
Sergey's mobile, as ill luck would have it, was busy. She did not wait for a return call.
— We agree. When?
— The day after tomorrow.
She left the office on her padded legs before her eyes throbbed these two white round lakes.
This is the brain! What consequences can there be?
— "Frau Stopnevich,"- she heard the voice of the assistant doctor behind her in the corridor. - You are not interested in knowing how much it will cost?
— "No," answered Anya, - "we will pay for everything."
4
Money again. Whatever one may say, we return to this burning topic again. What to do in such a desperate situation? Stopneviches, having passed all circles of hell with hospitals, resuscitation, rehabilitation, know about the existing order of the numbers not by hearsay. Actually, this was the first and main impetus to the creation of their charitable foundation. As I found out, Sergey had tried to help children before, regularly transferring money to the Life Line fund account.
— During my working in "Rusal", I fully paid for 10 operations. Sometimes I was called from the fund and I was asked to buy either a wheelchair, or some special crib. I've never told anyone about this. Even Anya did not know anything. I'm still not sure that this must necessarily to tell about it on all corners. Well done, you have done a good deed, so sit quietly. Who needs to know, they will find out. Or if they do not know, it does not matter either. The main thing is the result. However, one day I told about it to my son Artem. He came to me to ask an advice how he can spend his pocket money that he had saved up in two years. By the way, the amount was quite decent. So I asked if he would like to participate with me in one story. I was just about to transfer money for another operation. Artem listened to me, said that he would think, and the next day he brought an envelope: all his money was there. So in this sense, we already had some experience.
In the New Year's days buying the tickets was difficult. But then Sergey got from Moscow to Mainz for a record six hours. The operation was successfully completed. As they later learned, Dr. Wagner is one of the authors of a unique helmet designed together with Siemens, which is put on the patient's head to avoid dangerous and painful trepanation of the skull. And only two tiny scars in the area of Masha's cerebellum showed conclusively that the operation took place. However, the most terrible thing was waiting for Anya and Sergey in the intensive care ward.
— These 24 hours has seemed like an eternity, -Anya confesses.- "We did not leave her even for a minute. Masha did not recognize anyone. She was beaten by cramps. She was shouting something incoherent. Her intracranial pressure was constantly changing, delivering her terrible pain. These jumps we could see on the monitor. Serezha filmed all this on an iPhone, then to show the doctor. We could not fully believe that this could be. When Dr. Wagner saw these shots, he only spread his hands: "What did you wait for? Consider that your daughter was born again. All these year and a half she lived wrongly.
I didn't start asking Sergey, if he saved this ill-fated video. It's unlikely that they have since watched his film. And yet the death guarding them under the door, overtook them in Mainz. Only the Masha's pressure stabilized and Anya and Sergey were ready to breathe a sigh of relief, as news came from Moscow: Anya's father had died.
— Although my parents were divorced,- Anya remembers, - and I was raised by my stepfather, whom I also called my father, my dad remained a very important and close person to me. After they broke up with my mother, he was twice married and had two adult daughters, but he died all alone, and there was nobody to bury him. Serezha had to take on everything under his control.
And again, airports, planes, taxis, Christmas and New Year's Eve festive vanity as a contrasting background for the movements of a man with a gray face with fatigue.
— It was not me anymore, it was some automated, who was performing some actions, - says Sergey.- Morgue, cemetery, wake ... And only one thought all this time did not leave me somewhere in the depths of consciousness: how fragile it is, this human life, how instantly it can be broken. We all stand in a half-step from the clods of this frozen cemetery land, but we behave as if nothing of this exists and we will live forever.
Having given the last debt to the father-in-law, Sergey returned again to Mainz. The New Year days of 2016 became for him a certain frontier. A clear awareness of the need to change everything came just during his lonely expectations under the scoreboard, where for some reason the necessary flights did not catch fire. Moreover, this cheerful crowd is around, in anticipation of the New Year holidays. In the near future, he was waiting for the rehabilitation department in the Mainz clinic and complete uncertainty.
After some time, when Masha was discharged from the hospital, Professor Wagner introduced some clarity.
— Your daughter needs sea sand. She has to walk on the sand as more as she can. Only after that, her motor skills will be restored.
Sand? Where can we take sand? On the Baltic States' beaches, for the most part, is cool. In Sochi, there is a pebble. And then they both, without saying a word, said: Cyprus!
5
Even before Masha's illness, they managed to study this island and its inhabitants very well. Sergey and Anya had been associated with Cyprus for many years. However, they did not see it as a place of residence or even the rest. Everyone came here individually, did some business and left. If they managed to swim at least once in the sea, they thought that it was incredibly lucky. But more often they did not even look in the direction of the beach: combining the resort and work was not in their rules.
— Cyprus was perfect for us, - Anya thinks, - because, besides everything else, we knew how everything is arranged here, how business, banking works. We would never risk creating our own fund, to say, in Switzerland. This requires a completely different experience, connections.
Cyprus became their salvation, a long-awaited respite between operating rooms, intensive care units, hospital corridors, and chambers, displacing everything else from their lives. In addition, he gave the opportunity to start some completely new stage, wherever they would not be hired workers, albeit with a high salary, but the masters who are responsible for themselves. Moreover, there still were children who stayed all this time in the grandmothers' and nannies' care. If they didn't have any problems with the eldest Artem, who was successfully studying in England, they had to decide something with the youngest – Sasha and Tanya, so that they do not feel abandoned and forgotten. In general, the family needed to unite. Together Forever - the words of the song, which gave the name to their foundation, became at some point their motto, and at the same time the program of action.
The organization of their own life in Cyprus and the organization of a charitable foundation they took up almost simultaneously. From the very beginning, they knew for whom it would be intended. No politics, no PR, no commission from targeted donations. A small fund for children with severe diseases that require prompt neurosurgical intervention. Sergey does not hide that their experience with Masha turned out to be the deciding factor in the choice of specialization. At the same time, they are not going to limit themselves: the fund is private and registered in the euro area. If there is an opportunity to help, for example, with a long rehabilitation, they are ready to go for this "violation."
— For us, the most important thing is to give children a chance to be cured to the end,- Sergey says. - For this, we use the legislation of Cyprus. There are norms and rules of reporting that are very different from those adopted in Russia. I think if we started our history at home, much of what we have already managed to do would be simply legally impossible. If you need to help a child with a clinic, moving and living, it's easier to do from here. Now we have to open a representative office in Moscow, and then the fund will work with a full load.
Despite the tender age, Together Forever already has quite specific victories. Here are just two examples. Parents of seventeen-year-old Ksenia Travkina from Moscow turned for help about the gravest disease of the liver. Russian doctors refused to conduct the operation. But thanks to the fund, the girl was able to undergo examination in Mainz, where she underwent an operation. Soon she returned to Moscow, went to school. But she had to undergo a course of chemotherapy. Kashirka was refused. And she returns to Mainz again. Now Ksenia is preparing to enter the institute.
Makar Vasiliev, twelve years old. He also has an official refusal from the Russian clinic: his multiple aneurysms in the brain was considered to be inoperable. And in Israel, the hospital risked conducting this operation. Ten days after he returned home. He studies play sports. And no aneurysms!
— Is this all for your money? - I clarify with Sergey.
— Yes, initially the assistance - accompanying, survey, operation, recovery - was paid by us. But now the process is launched, and soon the money for the children treatment will successfully collect the fund.
He says so confidently that there are no questions. At the same time, I know that during the registration of Together Forever Stopneviches had problems with local consultants, lawyers. And even when all the papers were ready, for which they had to pay a lot, they were three times wrapped in a bank. In the eyes of the officials, the same cautious question was read: "What is this new scheme? What do they want to hide?"
— I understood only one thing, - says Anya, - if you want to do a good deed, you have to fight for it. At some point, I had to seriously engage in the preparation of a legal foundation for the work of the fund. Sick children and their problems could be occupied by other people. And then my education, qualifications, experience, perseverance were necessary. While I'm generally patient, the mood was often such that I wanted to hit someone. Because of my own impotence and fury.
— The last straw was the bill for services offered by the local legal office. Being surprised by the order of zeros, Sergey even called back to find out if they were not mistaken.
— No, they were not mistaken,- answered the Cypriots, who knew perfectly well why these documents were needed. Without further words, Sergey transferred the required amount but did not have any more business with this office.
— They then from our fee sent to the fund's account two thousand euros as a voluntary donation, and we, in turn, a report on what their money was spent on. No more contacts.
I'm interested in how the wealthy Stopnevich's friends react to Together Forever. As it turned out, some have already participated, others sympathetically observe from the outside, and still, others do not believe in this venture at all, as they say, without embarrassment, directly in the eye. Who needs it? Let the state itself take care of sick children. For what reason does the private initiative and the charity fund need?
Anya and Sergey do not object. Just stubbornly continue to do their job. Here, along with "Snob" held in Cyprus, a charitable presentation of our books and magazines was conducted. We gathered the local Russian audience. Beautiful women, stylish men, French wine, which Sergey chose by himself. Beautiful view from the terrace to the port of Limassol. Well, at the exit - a transparent cube of plastic to collect donations. Someone left money, some did not. But you have to start from somewhere. And recently in the Gostiny Dvor in Moscow, the foundation held an art exhibition of paintings by Russian artists "Long live the children!".
— I know that I will do everything to cope with the situation, - says Sergey, - and if it does not work, then ...
— "... we will change the situation,"- they say in chorus with Anya.
They are so harmoniously doing that three of us can not help laughing.
— In fact, for twenty years in business, I have learned to feel money on an intuitive level. I know how the financial flow is moving, where it is necessary to strengthen it, and where it should be braked. I will never take the risks that will put the project and my reputation under attack. And the foundation ... The foundation is our soul. Do you ever wonder what you can sacrifice for her? Everyone!
... In summer it's very hot in Cyprus. Local residents move to the mountains or the cooler countries. Stopnevichs are also going home in August to the country house near Sofrino, they have been building it for a long time, but they have not really lived up to it yet. So this will be their first summer. But Professor Wagner was right. Hot sand and the sea did their thing. If before Masha was afraid to even to step barefoot on the beach, now it is worn on it, only the heels sparkle.
From time to time, she stops and defiantly shouts to Sergei: "Daddy, look how I'm running!"
And she runs.